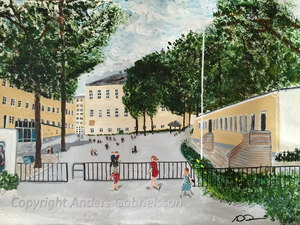 Giclée on paper. Limited edition
Numbered and signed graphic print (Giclée) from the painting "Ålstensskolan (Ålsten school)". Papper Hahnemüle German Etching 308 gram, 70 x 50 cm.
Målningen visar Ålstensskolan i Bromma, Västerled Stockholm på 1990 talet, då mina (Anders Gabrielsson) barn gick i denna skola upp till årskurs 5.