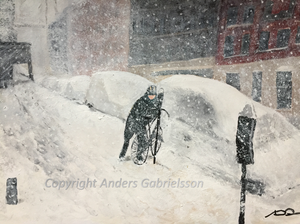 Snöbesvär i city - Snow truble in the city
Giclée in edition based on an acrylpainting by Anders Gabrielsson. Total edition is 90. All sheets are signed and numbered.
Paper: Hahnemühle German Etching 308 g. Size 70 x 50 cm.
Grafiskt tryck föreställande en cyklist som låser fast sin cykel i ett snöigt Stockholm. Bilarna är helt översnöade och det är svårt att komma fram både med bil och cykel. Till vänster står en man och tittar på sin mobiltelefon. Kanske kollar han vädret.